Vietnamese Nuns Visit Tassajara
by Keiryu Liên Shutt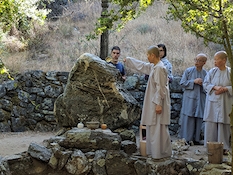 Liên Shutt is the Teacher of our sister Affiliate sangha, Access to Zen. She has transmission in the Suzuki Roshi lineage through Blanche Hartmann but also studied for a number of years with a Vietnamese zen teacher, Ni Su Thuan Tue. Recently she visited Tassajara with that Ni Su Tue and sent us this report.
New Web Coordinator

Zenho Eric Jonas, a practitioner at All Beings Zen Sangha in Washington, DC, has taken on the responsibilities of Web Coordinator for the Branching Streams website. He would love to hear whatever feedback you have to offer on the website, including content or features you would like to see added, or difficulties you encounter in using the website. Please email him to share anything you would like to share related to the Branching Streams website.
New book on Dogen's Being Time
Shinshu Roberts, co-head teacher at Branching Streams sangha Ocean Gate Zen Center, (more on OGZC here ) has authored a book on Dogen's Shobogenzo fascicle, Uji, Being-Time.  Shinshu's book has received wonderful pre-publication praise from a number of teachers and practitioners.  Here is one: "In Being-Time, Shinshu Roberts gives us a wise, kind and wonderfully patient guide to one of Dogen's most important and enigmatic texts. Now, more than ever, these profound old teachings are relevant to our lives in the here and now. This is a book I will treasure and return to time and time again." — Ruth Ozeki, author of A Tale for the Time Being. Shinshu's book will be published in March, by Wisdom Publications (and is currently available for pre-order on Amazon).
eZendo and Micro Zendo Practice
Profile: Open Zen Community
Open Zen Community is a small and dedicated Sangha of lay practitioners in the San Francisco Bay Area. All of us work full-time as part of our Zen practice. We meet online each evening to chant the refuges together at 8:25 p.m. and meet online for zazen and service at 9 a.m. on Saturday and Sunday. We sit together body-to-body for one-half day every second Sunday and hold zazen, kinhin and a Dharma talk on the fourth Sunday of each month at 3 p.m. Our particular emphasis is awakening where you are, as you are, and we examine the question of awakening in lay American life often. All are welcome to join in this dynamic practice of everyday life. Please visit our website at http://www.open-zen.org.
Mountain Seat Ceremony
A new Abbess in Diablo, California
On November 11, 2017, Myosho Baika Andrea Pratt-Heaton ascended the Mountain Seat at Mt. Diablo Zendo in Pleasant Hill, California, in a ceremony to mark her new position as Abbess. Both Myoan Grace Schireson, her Honshi (root teacher), and Sojun Mel Weitsman attended this heartwarming and intimate ceremony. Baika has worked very closely with these two teachers since 1987 when she began her practice at the Berkeley Zen Center.
Gratitude to Hozan Alan Senauke of the Berkeley Zen Center, who held a significant role as instructor and who helped create a customized ceremony for this small temple and its sangha. Gratitude to Sekibu Alice Tulloch, who organized sewing of a nine-panel robe for the new Abbess. And gratitude to the nearly forty sangha members, family and friends who attended and participated and who left for home with feeling of warm connection. Great congratulations to Myosho Baika and Mt. Diablo Zen Group!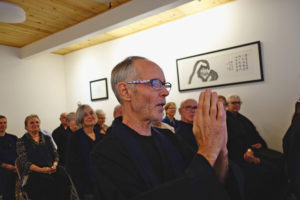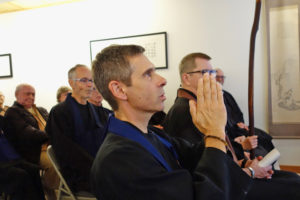 On the Road: Visiting and Sharing Mid-Stream
Chapter 2, Summer 2017
By Marcia Lieberman

NOTE for Summer 2018: Marcia has volunteered the past two summers to visit and practice with a number of Branching Streams sanghas (see her story below about her 2017 visits). She is offering to do the same in 2018. If your Sangha is interested in the possibility of a visit from Marcia, please let Steve Weintraub know.
The summer of 2017 found me traveling to sanghas in the Great Plains and along Lake Michigan. Packing a bag of temple art materials, I arrived first at Bozeman Zen Group to lead with (BZG's resident teacher and priest) Karen DeCotis a one month long practice period based on Suzuki Roshi's teaching—Express Yourself Fully. Together we joined the sangha with an assortment of teachings: pen to paper practice such as enso, sutra copying, zengo; creating sound in the zendo; and home altars. Bozeman is full of rocks so keeping paper in place was easy–a short walk outside produced chunks of granite. Considering nature and Zen, we made, then distributed, seed balls for the back lots of Montana. The oryoki training included fresh produce from the local market and generous servers. Hospitality included a bike trail from my homestay to the zendo in 10 minutes—wild flowers on either side, and the sun tipping the mountain tops. (continue reading)
Compassionate Presence in Each Moment
Profile: Santa Cruz Zen Center
In 1967 Kobun Chino Roshi, a Japanese Zen priest, came to San Francisco in response to an invitation from Suzuki Roshi to serve as his assistant at Tassajara for three years. Shortly after leaving Tassajara in 1970, Kobun moved to Los Altos and began teaching there at the Haiku Zendo. Also at this time he began a weekly zazen group in Santa Cruz. In 1972 the current Santa Cruz Zen Center at 113 and 115 School Street was offered as a practice place for Kobun Chino and his students. For many years he gave a weekly evening Dharma talk there, until leaving to teach in New Mexico, Colorado, and overseas. (continues)
Reminiscences about Suzuki Roshi
At one of the evening sessions at the May 2015 Branching Streams meeting, some of us who had begun practicing when Suzuki Roshi was alive reminisced about our practice with him.  It was recorded and you can download the audio here.
Buddha's wisdom and compassion in community
The Dharma Center is an independent, non-profit whose mission isto create a sanctuary for meditation and Buddha's teachings, welcoming everyone who seeks to end suffering and live in harmony. In support of its mission, a number of programs are offered including a Dharma en Español group, a people of color sangha, a family sangha for practitioners with children, and a climate change sangha. As the Dharma Center's tagline expresses, "Buddha's Wisdom & Compassion in Community" is manifesting.
About Valley Streams Zen Sangha
Valley Streams' guiding teacher is Abbot Myo Denis Lahey, whose home temple is Hartford Street Zen Center, located in San Francisco's Castro neighborhood. Rev. Myo is a fully entrusted Zen teacher, having received Dharma transmission from Tenshin Reb Anderson, Senior Dharma Teacher at San Francisco Zen Center. Locally, Rev. Jim Hare serves as Practice Leader and co-leads our practice in consultation with our guiding teacher and our board of directors. Jim has practiced Zen for 35 years, was head student during the spring 2002 practice period at Green Gulch, and was recently ordained by Rev. Myo Lahey.
For more information visit Valley Streams Zen Sangha.
Visit the sangha at:
Sacramento Dharma Center
3111 Wissemann Dr.
Sacramento, CA 95826.