Archive Contents
2020
2019
2018
2017
New Book: A Wild Love for the World: Joanna Macy and the Work of Our Times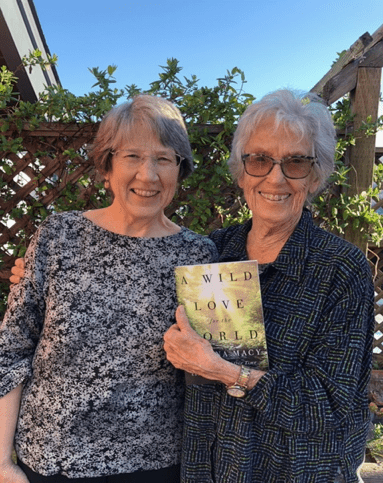 Stephanie Kaza and Joanna Macy
A Wild Love for the World: Joanna Macy and the Work of Our Times, edited by Stephanie Kaza, was just published by Shambhala. Here's a message from Stephanie, a keynote speaker at our 2019 Branching Streams conference:
"Greetings to all, wherever you are, in whatever degree of seclusion due to the pandemic. May you all be well and stay healthy as we live through this epic time in history. This is a wonderful book! There is much love here and the book is so needed in these difficult times. Let us celebrate that!" The book includes essays by Taigen Leighton of Ancient Dragon Zen Center and others whose names will be familiar to you.
Responses to the Climate Crisis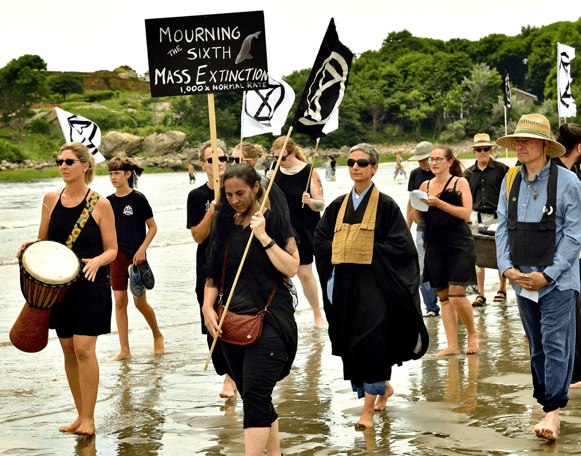 Zen Center North shore members and guiding teacher Joan Amaral participated in a Climate Funeral in August 2019
Since this was one of the themes of the 2019 Branching Streams Conference, inspired by Stephanie Kaza's presentation, I invited groups to share their ways of responding to the climate crisis and heard back from six groups. If you didn't respond, it's not too late to send your news for future newsletters.
Tova Green's recent visit to Texas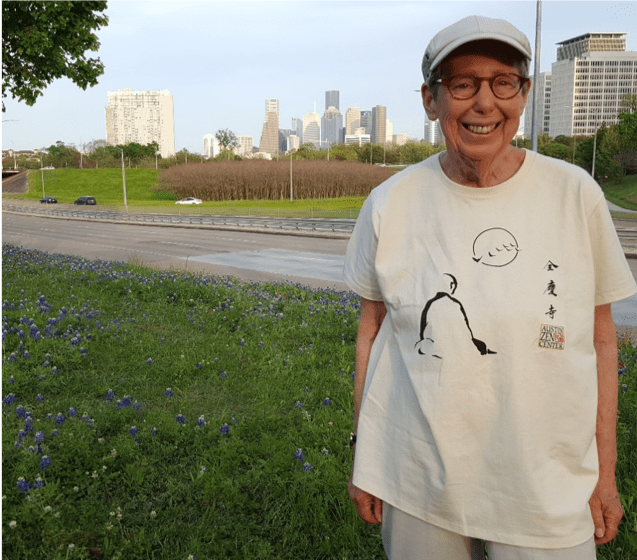 Tova Green seeing bluebonnets at the Buffalo Bayou
Dear distantly intimate friends (a phrase borrowed from Kevin Heffernan of Richmond, Virginia Zen Center),
I returned from visiting San Antonio, Austin, and Houston Zen Centers on March 17th, as leaders at all three centers were planning how best to respond to the Covid-19 virus. At Houston Zen Center, Abbot Gaelyn Godwin livestreamed my dharma talk through her computer, the first livestreamed talk HZC had offered. Here's a link to that talk.
I met with sangha leaders, board members, and practitioners at all three centers, and enjoyed
Texas hospitality. A member of Houston ZC wanted to be sure I saw bluebonnets (the Texas
state flower) in bloom and invited me to walk along Buffalo Bayou (photo above; I'm wearing an Austin ZC t-shirt).
The city I returned to had just begun to shelter in place. The airport was nearly deserted. San Francisco Zen Center had already closed to the public. I began two weeks of quarantine, which ended last night.
Tova Green's April 2020 Branching Streams Newsletter
Tova Green's April 2020 Branching Streams newsletter contains:
• A write-up on Tova's recent trip to Texas
• Information on how to connect with your Sangha through Zoom
• The possibility of setting up regular Branching Streams support calls
• An update on how San Francisco Zen Center is coping with the ongoing COVID-19 pandemic
• And more
A Poet's Experience of the 2019 Branching Streams Conference
Bonnie Sarmiento, Kannon Do Zen Meditation Center
I had heard that branching streams flow on in the darkness
But I did not know they would look like you
Smiling eyes, palms pressed
As we gather around circular dinner tables
As our bare feet walk on the wet sands of Lake Michigan
You told me about the prisons and the extinction of species
You told me we must reduce our carbon emissions by half in the next decade
Or else there will be irreversible damage to our planet
You told me about the little things you do
Washing out plastic bags so you can reuse them
And about the time you spent 2 weeks being force fed in a prison
Because you refused to support the war in Vietnam
You sit with a straight back
And look in the face of global climate chang
When I hear your voice
I hear concern, but never despair
While a glacier melts to the left
And 30 mammal species fall to the right
We renew our vow not to kill
We keep taking care
One plastic bag
One laundry load
One step at a time
We continue like a fool, like an idiot
When life is a paradox and we don't know what to do
We embrace our not knowing
It's in the space of not knowing that new solutions emerge
Thank you for sharing your practice with me
Branching Streams Sangha Practice Visits to Green Gulch Farm
The Branching Streams Liaison has been working for some time with the Green Gulch Farm Guest Manager and GGF Director to create a Program that allows Branching Streams sanghas to visit Green Gulch for a period of intensive practice and study together as a sangha. We are ready now to in-augurate this new Program:
Branching Streams Sangha Practice Visits to Green Gulch Farm.
This new Program takes its inspiration from the successful Tassasjara "Private Study Week" Program that many Branching Streams sanghas have participated in.
The basic form of this new Program includes:
A multi-day (3-4-5 night) visit to Green Gulch as a Branching Streams sangha
Participating in the zendo schedule with resident practitioners
Participating in the morning work period, as organized by the Guest Program manager
Having the afternoon each day for sangha meeting and study, individual retreat time, hiking and exercise time, etc.
My Visits to Rome and Belfast
I arrived in Rome on April 30th, six days before Dario Girolami's Mountain Seat Ceremony to become Abbot of Centro Zen l'Arco or Zenmon-ji, where he has been the guiding teacher. I brought with me the 11-jo ceremonial robe I had sewn for the occasion. Dario is my dharma brother, both of us students of Eijun Linda Cutts. We have been addressing one another as "dear dharma sister," "dear dharma brother" for over ten years, since we met at a Green Gulch Farm practice period.Although Dario had invited me to visit him in Rome many times, this was my first trip.
Jizo Ceremony Training: March 29-30, 2019, Green Gulch Farm Zen Center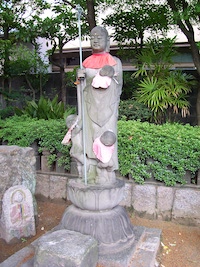 Next March, two Branching Streams Teachers, Hoka Chris Fortin of Dharma Heart Zen, and Dojin Sarah Emerson of Stone Creek Zen Center, along with Reverend Jennifer Block will be providing training in offering and officiating at a Jizo Ceremony. The traditional Jizo Ceremony is a Japanese Zen ritual for loved ones, particularly children, who have died. Since being offered in the U.S., this ceremony has been evolving, both for Zen practitioners and those in the community beyond, as a deep and meaningful container for those grieving both the loss of a child, and has also been adapted for those grieving losses of loved ones more generally.
This will be a two day training. The first 1 ½ days will look at the history of the Jizo ceremony, it's tradition, and how it is currently being practiced and offered in the U.S.. We learn about one version of the ceremony itself, and the ways it can be adapted to different circumstances, losses and environments. We will also look at fundamental aspects of accompanying grief and tools and skills for this work, which includes conscious engagement with the grief each of us carries and how we are holding it.
On the second day, in the afternoon, we will offer a Jizo Ceremony for the general public, which training participants are encouraged to attend as well. This will be an opportunity to participate in and witness the ceremony itself.
It is not necessary for participants to have personally experienced the loss of a child or loved one, but just that everyone have a willingness to enter the realm of grief and it's accompanying pain, and to learn about and honor this ceremony, its history and particular forms and contemporary manifestations.
This training is open to ordained priests, religions leaders, grief counselors and chaplains; and may also be attended by anyone else who feels a calling to participate in learning about this ceremony, with instructor permission.
With more questions, please contact Sarah at: dojinemerson@gmail.com
Beautiful Rohatsu Sesshin (from Kotatsu John Bailes)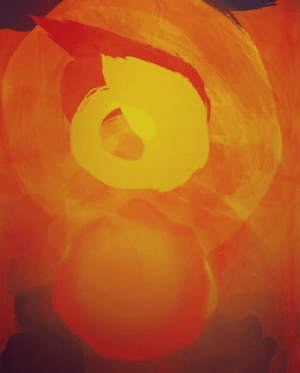 Beautiful Rohatsu Sesshin with Monmouth Zen Circle Sangha, members of Sweeping Heart Zen Sangha, Mark Nelson , setting the ground for an exceedingly powerful and loving Shukke Tokudo or Leaving Home Entering the Way ordination creating two new zen priests: Robyn Ellenbogen Kanshin Kaiji, Generous Heart, Ocean Love, and Tom Jones , Myoshin Yosho, Inconceivable Heart, Nourish Life.
Only Love!
Thank you Brian Unger Founder with his deceased wife Janice, Norman Fischer who gave me my Dharma Heritage, Michael Wenger, Blanche Hartman, and Richard Baker, to whom I owe The Way. All of whom made this possible. And our sewing mentors: Renshin Bunce, Inryu Bobbi PonceBarger, Tim Wicks! Big Love to all Bodhisattva Mahasattvas who keep us in their heart.
New Book by Les Kaye and Teresa Bouza: A Sense of Something Greater: Zen and the Search for Balance in Silicon Valley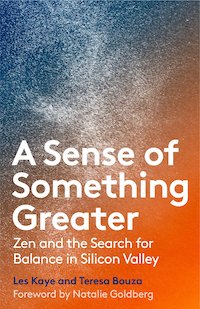 Les Kaye of Kannon Do Zen Center has just coauthored a book with Teresa Bouza.
From the press release:
A Sense of Something Greater goes deeper than the current mindfulness trend, into the heart of Zen practice. For Les Kaye, Zen is more than awareness–it's also "the continued determination to be authentic in relationships, to create meaningful, intimate, intentional bonds with people, things, and the environment." Kaye's teachings are paired with interviews with current tech employees and Zen practitioners, conducted by journalist Teresa Bouza. A Sense of Something Greater is an essential book for business leaders, mindfulness meditators, and Zen practitioners alike.
Journey to the East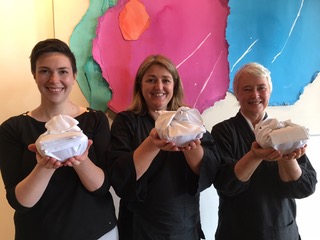 In September, 2017, I packed all the belongings that I could fit into a rented Dodge Grand Caravan, left Green Gulch Farm/Green Dragon Temple, my home temple of practice and training for more than 10 years, and drove across the US—3,000+ miles and a seven day jour-ney that included crossing the Rockies, the Mississippi and Missouri Rivers, and wide expanses of farm land. I skirted the edges of cities, stopping only to sleep and for visits to the wondrous Water-Moon GuanYin in Kansas City MO, Sanshinji in Bloomington IN and the home of my dharma sister, Catherine Gammon, in Pittsburgh PA. I arrived in Brooklyn on a hot, humid late September afternoon.
Social Action: SFZC practitioners host Vigil at Richmond CA ICE Detention Center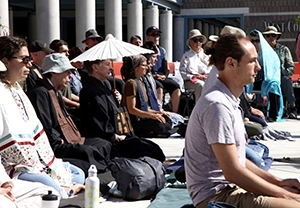 Practitioners from Green Gulch Farm, some as well from SFZC City Center and other sanghas, participated on July 7th in the monthly vigil held at the West County ICE Detention Center in Richmond CA. The vigil is organized by the Interfaith Movement for Human Integrity, and Green Gulch Farm Zen Center was invited to host this month's event. A statement from the SFZC Central Abbess, Eijun Linda Ruth Cutts was given at the vigil and translated into Spanish, sharing with those who gathered to sit, bear witness, and participate in a religious service, the teachings that support the vigil.
An excerpt from Linda's statement:
We have come here today to participate with you in this vigil out of compassion. With a beginner's mind we join with countless others to be counted–to speak out for those whose voices are silenced
Our practice and vow flows from the teaching of the truth of our interconnected lives and our love for the earth and all beings. This truth of connection expresses itself in compassion—the wish and prayer that all beings will be free from suffering and the vow to live to benefit all beings. The capacity for Infinite Compassion—in each one of us—is said to have 1,000 hands and eyes—and takes immeasurable forms—ready to respond to the cries of the world—This is the fierce, unstoppable power of compassion. What is needed today.
Find your place — Welcome to Forest Heart Temple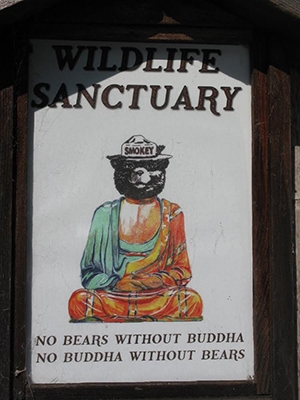 The Arcata Zen Group began sometime in the early 1970's. Lloyd F., an HSU professor, recalls sitting in the old Arcata Creamery. Other long-time sangha members have mentioned a place they called "The Falling-Down Garage Zendo." Ta Hui, Donald Gilbert, a Korean Zen master, was Lloyd's teacher and a visiting teacher to the group. The group persisted as a loose-knit and low-key assemblage, moving from place to place until it found a fairly stable address in a small out-building, rumored to have once been a chinchilla farm, on Lloyd's property on California Street. Various visiting teachers came, including Issan Dorsey, Donald Gilbert, Steve Allen, Ed Brown, and Maezumi Roshi.
Montaña Despierta 10 Year Anniversary Album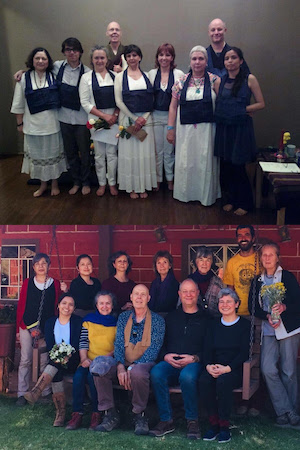 Montaña Despierta, our sister Affiliate in Xalapa, Mexico, led by Sergio Stern, recently celebrated their 10 year anniversary. They compiled a photo album as part of the Celebration. Each of the images is "clickable" to see it full size.
Congratulations, Montaña Despierta, on 10 years of sincere practice!

Stories of Jizo: New Jizo Garden at Green Gulch Farm
And dedication ceremony honoring Yvonne Rand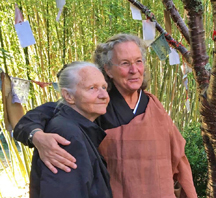 Last November a number of people gathered in the Green Gulch Farm garden to dedicate a new Jizo garden, and to honor Yvonne Rand for her decades of influential, formative practice at San Francisco Zen Center and for her development of the practice of Jizo ceremonies. Many people were present—many who have known and been influenced by Yvonne as well as many who have taken part in and benefited from the Jizo Garden and the Jizo Ceremonies for Children and Those Who Have Died. Yvonne was present and spoke at this moving event.
Here are stories about Jizo, the Bodhisattva who is especially known to protect children, women, and travelers; stories of the Jizo Garden; and stories of Yvonne Rand, written by Wendy Johnson, also a decades-long practitioner and co-founder of the Green Gulch garden, and Chris Fortin,who continues to perform Jizo ceremonies regularly and to teach the tradition to others. Included is Yvonne's own story of her history with Jizo practice, which she wrote in 2002. (continue reading)
From All Beings Zen Sangha: Relief from Screens
NPR recently did a segment titled: "Many Look to Buddhism for Sanctuary from an Over-connected World," which prominently featured one of our sister Affiliates, All Beings Zen Sangha in Washington, DC. Read or listen to the story here.
One of the First Branching Streams
Kannon Do, Mountain View, California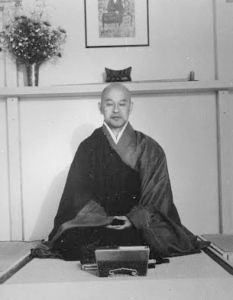 One of Suzuki Roshi's original "extensions" of Zen practice outside of San Francisco was a sitting group in Los Altos, which began in the mid-1960s. As one of the very first "branching streams," this center, in the heart of what would soon be known as Silicon Valley, has been providing opportunities for comtemplative practice for the San Francisco mid-peninsula and South Bay for over fifty years.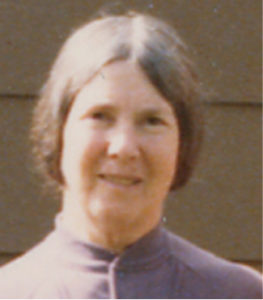 The Los Altos community established a daily practice of zazen that was made possible by the generosity of one of the Sangha members, Marian Derby. Marian generously insisted that the garage of her home be converted into a zendo. Suzuki-roshi and the Sangha did the construction. There was room for seventeen cushions. As seventeen is the number of syllables in a haiku poem, they named the new center Haiku Zendo. (continue reading)
The Flourishing of Suzuki Roshi's Way – Branching Streams Affiliate Sanghas
by Steve Weintraub
The following article by Steve Weintraub was recently published in San Francisco Zen Center's Sangha News. Here is the complete article, which gives some history and news about Branching Streams.
Suzuki Roshi's Way is flourishing.
San Francisco Zen Center's "Branching Streams" Network of Affiliate Sanghas is now comprised of 75 Dharma centers, ranging in size from meeting-once-a-week small sitting groups to established centers with their own Abbesses/Abbots, Boards of Directors, dedicated property, and numerous weekly Dharma offerings.
There are now 65 Affiliates in the United States and another 10 in Europe and Central and South America. Branching Streams—the name comes from a line in a poem by eighth century Zen Master Sekito Kisen—grew out of a recognition, in the mid-80s, that sanghas affiliated with San Francisco Zen Center, around the country and around the globe, were burgeoning, and that they both wanted and would benefit from a closer connection to SFZC and to each other. The mission of the Branching Streams programs is to encourage and support the development of these Affiliate sanghas.
Every other year we hold a large "Gathering of the Branching Streams." We completed such a conference in early September 2017 in Chicago, hosted by the thriving affiliate, Ancient Dragon Zen Gate.

Forty Branching Streams Leaders were in attendance; we practiced zazen together, had meals together, and informal time. Our two main topics for this particular gathering were the "right use of power" and "Zen practice and social engagement." There were intense discussions in group sessions both large and small, on these and related topics. People left the Conference feeling more connected to the Dharma and to each other; energized and encouraged.
In addition to the biennial conference, other programs that have been developed in recent years as part of the Branching Streams initiative include:
A Fellowship Program that allows senior SFZC-trained practitioners to spend up to six months at a given affiliate, for the mutual benefit of both the senior practitioner and the affiliate.

A Tassajara Program that allows a Branching Streams teacher to visit Tassajara during the Summer Guest Season with members of their own sangha, participate in Tassajara practice life and have time as well to meet and study with each other.

Members of Dharma Vow Zen Sangha (Santa Monica, CA) at Tassajara, Summer 2017

A Program that provides lineage documents to Teachers in Branching Streams, for lay and priest ordinations they perform.
A Branching Streams website to promote communication to and among the Branching Streams Affiliates.
Over the past few years various Affiliates have submitted Profiles of their groups for publication in Sangha News and on the Branching Streams websites. To give a sense of what the Affiliate groups are like, see these three profiles:
Vietnamese Nuns Visit Tassajara
by Keiryu Liên Shutt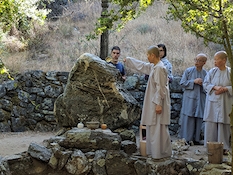 Liên Shutt is the Teacher of our sister Affiliate sangha, Access to Zen. She has transmission in the Suzuki Roshi lineage through Blanche Hartmann but also studied for a number of years with a Vietnamese zen teacher, Ni Su Thuan Tue. Recently she visited Tassajara with that Ni Su Tue and sent us this report.
New Web Coordinator

Zenho Eric Jonas, a practitioner at All Beings Zen Sangha in Washington, DC, has taken on the responsibilities of Web Coordinator for the Branching Streams website. He would love to hear whatever feedback you have to offer on the website, including content or features you would like to see added, or difficulties you encounter in using the website. Please email him to share anything you would like to share related to the Branching Streams website.
New book on Dogen's Being Time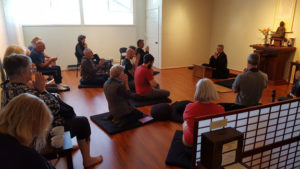 Shinshu Roberts, co-head teacher at Branching Streams sangha Ocean Gate Zen Center, (more on OGZC here ) has authored a book on Dogen's Shobogenzo fascicle, Uji, Being-Time.  Shinshu's book has received wonderful pre-publication praise from a number of teachers and practitioners.  Here is one: "In Being-Time, Shinshu Roberts gives us a wise, kind and wonderfully patient guide to one of Dogen's most important and enigmatic texts. Now, more than ever, these profound old teachings are relevant to our lives in the here and now. This is a book I will treasure and return to time and time again." — Ruth Ozeki, author of A Tale for the Time Being. Shinshu's book will be published in March, by Wisdom Publications (and is currently available for pre-order on Amazon).
eZendo and Micro Zendo Practice
Profile: Open Zen Community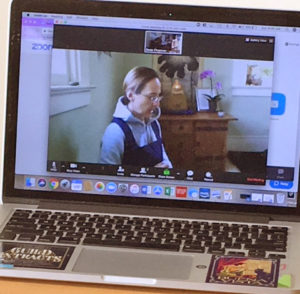 Open Zen Community is a small and dedicated Sangha of lay practitioners in the San Francisco Bay Area. All of us work full-time as part of our Zen practice. We meet online each evening to chant the refuges together at 8:25 p.m. and meet online for zazen and service at 9 a.m. on Saturday and Sunday. We sit together body-to-body for one-half day every second Sunday and hold zazen, kinhin and a Dharma talk on the fourth Sunday of each month at 3 p.m. Our particular emphasis is awakening where you are, as you are, and we examine the question of awakening in lay American life often. All are welcome to join in this dynamic practice of everyday life. Please visit our website at http://www.open-zen.org.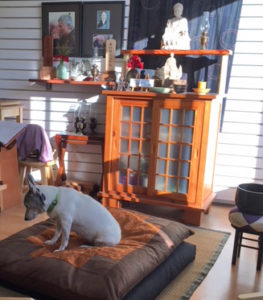 Mountain Seat Ceremony
A new Abbess in Diablo, California
On November 11, 2017, Myosho Baika Andrea Pratt-Heaton ascended the Mountain Seat at Mt. Diablo Zendo in Pleasant Hill, California, in a ceremony to mark her new position as Abbess. Both Myoan Grace Schireson, her Honshi (root teacher), and Sojun Mel Weitsman attended this heartwarming and intimate ceremony. Baika has worked very closely with these two teachers since 1987 when she began her practice at the Berkeley Zen Center.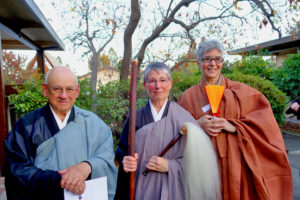 Gratitude to Hozan Alan Senauke of the Berkeley Zen Center, who held a significant role as instructor and who helped create a customized ceremony for this small temple and its sangha. Gratitude to Sekibu Alice Tulloch, who organized sewing of a nine-panel robe for the new Abbess. And gratitude to the nearly forty sangha members, family and friends who attended and participated and who left for home with feeling of warm connection. Great congratulations to Myosho Baika and Mt. Diablo Zen Group!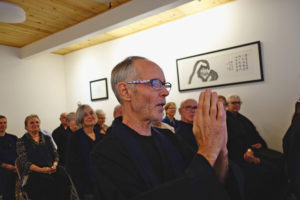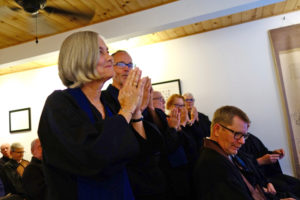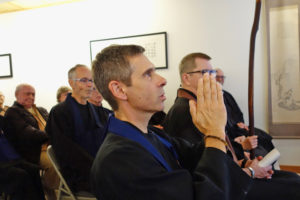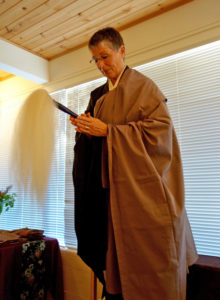 On the Road: Visiting and Sharing Mid-Stream
Chapter 2, Summer 2017
By Marcia Lieberman

NOTE for Summer 2018: Marcia has volunteered the past two summers to visit and practice with a number of Branching Streams sanghas (see her story below about her 2017 visits). She is offering to do the same in 2018. If your Sangha is interested in the possibility of a visit from Marcia, please let Steve Weintraub know.
The summer of 2017 found me traveling to sanghas in the Great Plains and along Lake Michigan. Packing a bag of temple art materials, I arrived first at Bozeman Zen Group to lead with (BZG's resident teacher and priest) Karen DeCotis a one month long practice period based on Suzuki Roshi's teaching—Express Yourself Fully. Together we joined the sangha with an assortment of teachings: pen to paper practice such as enso, sutra copying, zengo; creating sound in the zendo; and home altars. Bozeman is full of rocks so keeping paper in place was easy–a short walk outside produced chunks of granite. Considering nature and Zen, we made, then distributed, seed balls for the back lots of Montana. The oryoki training included fresh produce from the local market and generous servers. Hospitality included a bike trail from my homestay to the zendo in 10 minutes—wild flowers on either side, and the sun tipping the mountain tops. (continue reading)
Compassionate Presence in Each Moment
Profile: Santa Cruz Zen Center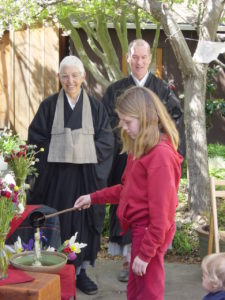 In 1967 Kobun Chino Roshi, a Japanese Zen priest, came to San Francisco in response to an invitation from Suzuki Roshi to serve as his assistant at Tassajara for three years. Shortly after leaving Tassajara in 1970, Kobun moved to Los Altos and began teaching there at the Haiku Zendo. Also at this time he began a weekly zazen group in Santa Cruz. In 1972 the current Santa Cruz Zen Center at 113 and 115 School Street was offered as a practice place for Kobun Chino and his students. For many years he gave a weekly evening Dharma talk there, until leaving to teach in New Mexico, Colorado, and overseas. (continues)
Reminiscences about Suzuki Roshi
At one of the evening sessions at the May 2015 Branching Streams meeting, some of us who had begun practicing when Suzuki Roshi was alive reminisced about our practice with him.  It was recorded and you can download the audio here.
Buddha's wisdom and compassion in community
The Dharma Center is an independent, non-profit whose mission isto create a sanctuary for meditation and Buddha's teachings, welcoming everyone who seeks to end suffering and live in harmony. In support of its mission, a number of programs are offered including a Dharma en Español group, a people of color sangha, a family sangha for practitioners with children, and a climate change sangha. As the Dharma Center's tagline expresses, "Buddha's Wisdom & Compassion in Community" is manifesting.
About Valley Streams Zen Sangha
Valley Streams' guiding teacher is Abbot Myo Denis Lahey, whose home temple is Hartford Street Zen Center, located in San Francisco's Castro neighborhood. Rev. Myo is a fully entrusted Zen teacher, having received Dharma transmission from Tenshin Reb Anderson, Senior Dharma Teacher at San Francisco Zen Center. Locally, Rev. Jim Hare serves as Practice Leader and co-leads our practice in consultation with our guiding teacher and our board of directors. Jim has practiced Zen for 35 years, was head student during the spring 2002 practice period at Green Gulch, and was recently ordained by Rev. Myo Lahey.
For more information visit Valley Streams Zen Sangha.
Visit the sangha at:
Sacramento Dharma Center
3111 Wissemann Dr.
Sacramento, CA 95826.