Branching Streams is a network of affiliate Dharma centers and Sanghas in the Zen lineage of Shunryu Suzuki Roshi
News and request from Montaña de Silencio Comunidad Zen Insight in Medellin, Columbia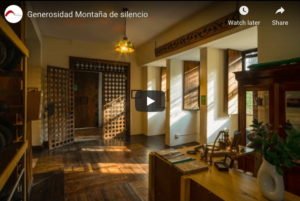 Sanriki Jaramillo, their guiding teacher, was participating in the Spring Practice Period at Green Gulch Farm, which ended in mid-March, due to the Covid-19 pandemic. He writes, "I returned to Medellín to guide our small community through the quarantine. It has been a time of great uncertainty and limitation. Although we are now close to ending our quarantine (the curve of contagion and death from COVID 19 has begun to diminish significantly in Colombia), the economic impact of the temporary closure of our center has been great. The largest part of our income is comprised of donations and voluntary support from practitioners and visitors, and our monthly income has been reduced by forty percent. In the last six months, we have incurred a large deficit that threatens our future. If we are not able to cover this deficit, we may have to give up our practice center, the house we currently occupy, where a small community of permanent and occasional practitioners live.
Fifteen days ago, we began a fundraising campaign with the goal of raising $20.000.000 Colombian pesos ($5,500 US dollars). The result so far has been encouraging as we have raised 60% of our goal, but we still have a long way to go before we reach it."
Sanriki asked me to share their current situation in the hope that we might be able to assist them in guaranteeing our economic equilibrium for the rest of the year.
Tips for connecting your community through Zoom from Jon Voss
San Francisco Zen Center, and many others, are using Zoom to power online zendos, classes, practice discussions and the like. Zoom (https://zoom.us/) provides video conferencing services for individuals and organizations alike. It has become an essential part of both business and social life during the coronavirus pandemic. You do not need a Zoom account to participate, but you will need to download free software, available for Mac, PC, iPhone and Android devices. Free call-in numbers are also available for those without computer access.
If you're interested in learning more, Jon Voss (bio: http://consulting.jumpslide.com/jon) is now hosting a weekly drop-in clinic for Branches and Streams members Wednesdays at 11am Pacific. Jon hosts the Mid City Zen virtual zendo, as well as SFZC morning zazen occasionally. Please see our new Resources for Online Zendos and Zoom Hosts, or contact jon@jumpslide.com if you have any questions.
New Book: Clean Slate, by Marcia Lieberman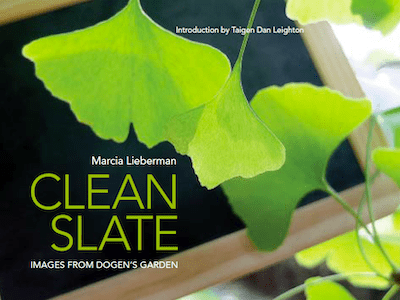 Clean Slate by Marcia Lieberman
Marcia Lieberman has authored a new book, Clean Slate: Images from Dogen's Garden. Here is a blurb from Dale Wright, author of The Six Perfections: Buddhism and the Cultivation of Character:
It's hard to imagine a more apt portal to the heart of Dogen's Soto Zen sensibility than Marcia Lieberman's Clean Slate. Her brilliant photographs isolate fragments of plants from Dogen's Japanese gardens in various stages of life's impermanence so vividly that the fragrance seeps through the medium. Breathe in: black pine, camelia, wisteria, magnolia. Responses from five lifelong Dogen affectionados and an introductory doorway to Dogen from Soto teacher Taigen Leighton let the extraordinary Zen master and these botanical sentient beings speak to us directly. Just breathe, savoring "mountains and waters"– no translation required.
See more on the book, including a letter from Marcia Lieberman introducing the book, here.
Branching Streams Newsette for September 14, 2020
In this newsette:
• Election Retreats
• Global Buddhist response to feed the hungry
• A new video of zazen instruction by Sojun Mel Weitsman
• And more
Oct. 11 Buddhist Global Relief Action to Feed the Hungry
Sponsored by Houston Zen Center and Myoken-Ji
Sunday, October 11, 2020
11:30 AM 1:30 PM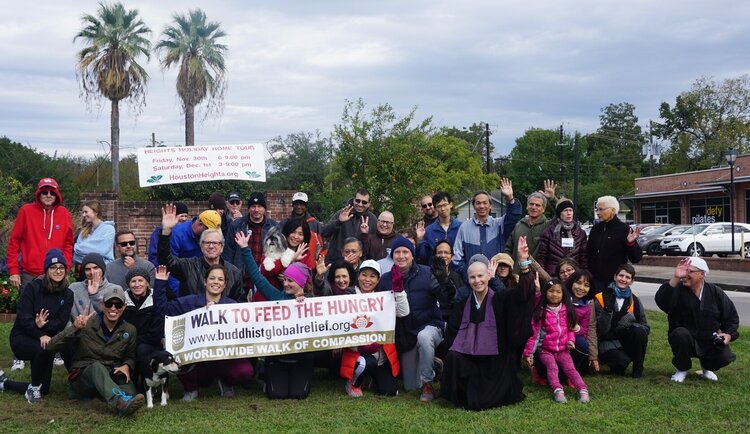 This year, during the global pandemic, it is more important than ever to come together to provide help and support for the many people who suffer food insecurity. Ven. Bhikkhu Bodhi, the founder of Buddhist Global Relief, will join our action to give us encouraging words, as well as guided meditation.
We invite everyone to participate by registering for this online action. You can also make a video of yourself walking or standing with sign that supports Buddhist Global Relief. Your efforts and generosity will help with programs that provide direct relief, promote sustainable agriculture, and provide education and right livelihood opportunities for women.
Join the Action to Feed the Hungry here. You can join the Houston Zen Center / Auspicious Cloud Temple, or one of the other teams, or participate on your own. Create your own page, or join a team, and invite your friends to donate in your name to sponsor your action to raise funds to care for many people in need. The links will be provided very soon. 100% of the funds raised from this action go to Buddhist Global Relief. Their overhead is tiny.
The online event will begin with encouraging dharma words from Bhikkhu Bodhi, the founder of Buddhist Global Relief. Please email Houston Zen Center if you have any questions.
Tova Green's Letter to Branching Streams Teachers and Leaders about COVID-19
Branching Streams liaison Tova Green recently sent a letter to Branching Streams affiliate Sanghas regarding the ongoing global COVID-19/Coronavirus pandemic. The letter concerns best practices for Sanghas as they decide how to navigate the ongoing health crisis. You can read Tova's letter here.
Map of Affiliates
Click to bring up full-size map.