Branching Streams is a network of affiliate Dharma centers and Sanghas in the Zen lineage of Shunryu Suzuki Roshi
Responses to the Climate Crisis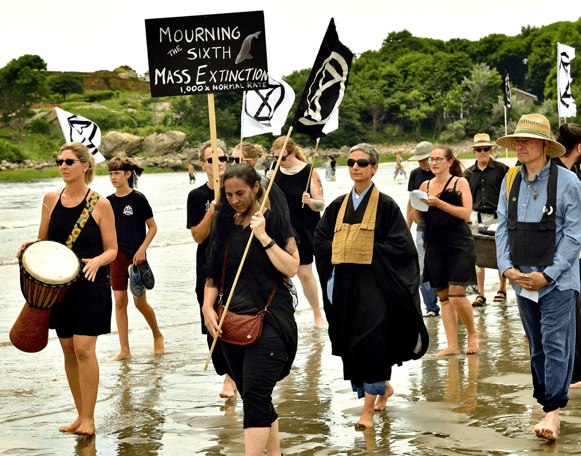 Zen Center North shore members and guiding teacher Joan Amaral participated in a Climate Funeral in August 2019

Since this was one of the themes of the 2019 Branching Streams Conference, inspired by Stephanie Kaza's presentation, I invited groups to share their ways of responding to the climate crisis and heard back from six groups. If you didn't respond, it's not too late to send your news for future newsletters.
A Poet's Experience of the 2019 Branching Streams Conference
Bonnie Sarmiento, Kannon Do Zen Meditation Center
I had heard that branching streams flow on in the darkness
But I did not know they would look like you
Smiling eyes, palms pressed
As we gather around circular dinner tables
As our bare feet walk on the wet sands of Lake Michigan
You told me about the prisons and the extinction of species
You told me we must reduce our carbon emissions by half in the next decade
Or else there will be irreversible damage to our planet
You told me about the little things you do
Washing out plastic bags so you can reuse them
And about the time you spent 2 weeks being force fed in a prison
Because you refused to support the war in Vietnam
You sit with a straight back
And look in the face of global climate change
When I hear your voice
I hear concern, but never despair
While a glacier melts to the left
And 30 mammal species fall to the right
We renew our vow not to kill
We keep taking care
One plastic bag
One laundry load
One step at a time
We continue like a fool, like an idiot
When life is a paradox and we don't know what to do
We embrace our not knowing
It's in the space of not knowing that new solutions emerge
Thank you for sharing your practice with me
Branching Streams Sangha Practice Visits to Green Gulch Farm
The Branching Streams Liaison has been working for some time with the Green Gulch Farm Guest Manager and GGF Director to create a Program that allows Branching Streams sanghas to visit Green Gulch for a period of intensive practice and study together as a sangha. We are ready now to in-augurate this new Program:
Branching Streams Sangha Practice Visits to Green Gulch Farm.
This new Program takes its inspiration from the successful Tassasjara "Private Study Week" Program that many Branching Streams sanghas have participated in.
The basic form of this new Program includes:
A multi-day (3-4-5 night) visit to Green Gulch as a Branching Streams sangha
Participating in the zendo schedule with resident practitioners
Participating in the morning work period, as organized by the Guest Program manager
Having the afternoon each day for sangha meeting and study, individual retreat time, hiking and exercise time, etc.
If this new Program is of interest to you and your sangha, please feel free to get in touch with the Branching Streams Liaison, or to contact the GGF Guest Manager at ggfguest@sfzc.org
Map of Affiliates
Click to bring up full-size map.