[smartslider3 slider=2]
Branching Streams is a network of affiliate Dharma centers and Sanghas in the Zen lineage of Shunryu Suzuki Roshi
2020 Year End Branching Streams Video
As we move on in 2021, you may enjoy watching a video of photographs from Branching Streams sanghas' experiences in 2020. The video was compiled by Teresa Bouza (a member of Kannon Do in Mountain View, CA). It expresses many of the 10,000 joys and 10,000 sorrows of last year.
October 2020 Branching Streams Covid-19 Survey Report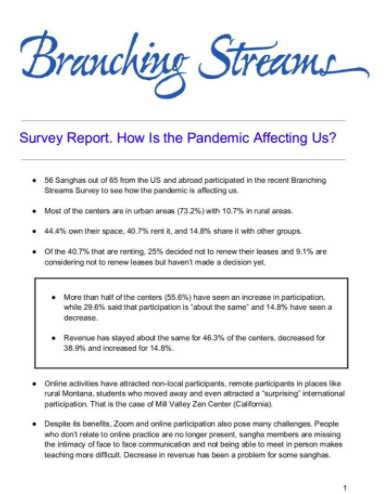 Thank you so much for responding to the Covid-19 survey. Nearly 85% of Branching Streams sanghas responded. I also want to express great appreciation to Teresa Bouza of Kannon Do Zen Center who designed the survey and compiled the results. I hope this gives you a wider view of the challenges and resilience of our wide network of Zen practitioners.
Tips for connecting your community through Zoom from Jon Voss
San Francisco Zen Center, and many others, are using Zoom to power online zendos, classes, practice discussions and the like. Zoom (https://zoom.us/) provides video conferencing services for individuals and organizations alike. It has become an essential part of both business and social life during the coronavirus pandemic. You do not need a Zoom account to participate, but you will need to download free software, available for Mac, PC, iPhone and Android devices. Free call-in numbers are also available for those without computer access.
If you're interested in learning more, Jon Voss (bio: http://consulting.jumpslide.com/jon) is now hosting a weekly drop-in clinic for Branches and Streams members Wednesdays at 11am Pacific. Jon hosts the Mid City Zen virtual zendo, as well as SFZC morning zazen occasionally. Please see our new Resources for Online Zendos and Zoom Hosts, or contact jon@jumpslide.com if you have any questions.
Branching Streams Newsette for February 9, 2021
In this newsette:
• various events and ideas around mutual aid and assistance within sanghas
Sojun Mel Weitsman's passing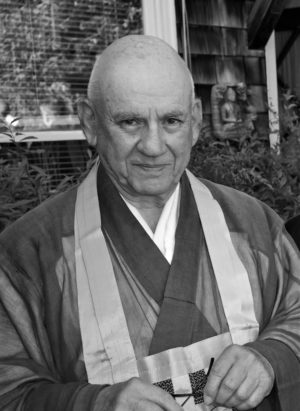 With great sadness the sangha of Berkeley Zen Center announces that Hakuryu Sojun—White Dragon/Essence of Purity—Mel Weitsman peacefully passed from this world to the Pure Land of Buddhas and Ancestors at home, at 5:30pm on Thursday, January 7. He was ninety-one years old.
Sojun Roshi is survived by his wife Liz Horowitz Weitsman, their son Daniel, and uncountable disciples and students across the United States and around the world. Cards and letters can be sent to Liz, Daniel, and the BZC sangha c/o Berkeley Zen Center, 1931 Russell Street, Berkeley, CA 94703.
Berkeley Zen Center has created a Memorial Wall through the app KudoBoard, where you can post your stories, remembrances, feelings, and thoughts. Access that here.
Barbara Wenger (photographer, community organizer and wife of Dairyu Michael Wenger, who leads Dragons Leap sangha in San Francisco) created a beautiful photo tribute to Sojun. Barbara is happy to share it with you. Here's the link.
Tova Green's Letter to Branching Streams Teachers and Leaders about COVID-19
Branching Streams liaison Tova Green recently sent a letter to Branching Streams affiliate Sanghas regarding the ongoing global COVID-19/Coronavirus pandemic. The letter concerns best practices for Sanghas as they decide how to navigate the ongoing health crisis. You can read Tova's letter here.
Map of Affiliates
Click to bring up full-size map.