Branching Streams is a network of affiliate Dharma centers and Sanghas in the Zen lineage of Shunryu Suzuki Roshi
Tips for connecting your community through Zoom from Jon Voss
San Francisco Zen Center, and many others, are using Zoom to power online zendos, classes, practice discussions and the like. Zoom (https://zoom.us/) provides video conferencing services for individuals and organizations alike. It has become an essential part of both business and social life during the coronavirus pandemic. You do not need a Zoom account to participate, but you will need to download free software, available for Mac, PC, iPhone and Android devices. Free call-in numbers are also available for those without computer access.
If you're interested in learning more, Jon Voss (bio: http://consulting.jumpslide.com/jon) is now hosting a weekly drop-in clinic for Branches and Streams members Wednesdays at 11am Pacific. Jon hosts the Mid City Zen virtual zendo, as well as SFZC morning zazen occasionally. Please see our new Resources for Online Zendos and Zoom Hosts, or contact jon@jumpslide.com if you have any questions.
New Book: A Wild Love for the World: Joanna Macy and the Work of Our Times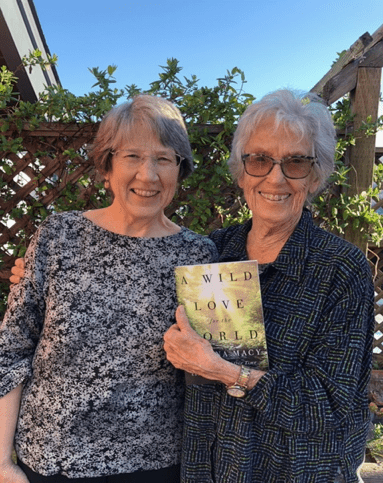 Stephanie Kaza and Joanna Macy
A Wild Love for the World: Joanna Macy and the Work of Our Times, edited by Stephanie Kaza, was just published by Shambhala. Here's a message from Stephanie, a keynote speaker at our 2019 Branching Streams conference:
"Greetings to all, wherever you are, in whatever degree of seclusion due to the pandemic. May you all be well and stay healthy as we live through this epic time in history. This is a wonderful book! There is much love here and the book is so needed in these difficult times. Let us celebrate that!" The book includes essays by Taigen Leighton of Ancient Dragon Zen Center and others whose names will be familiar to you.
Responses to the Climate Crisis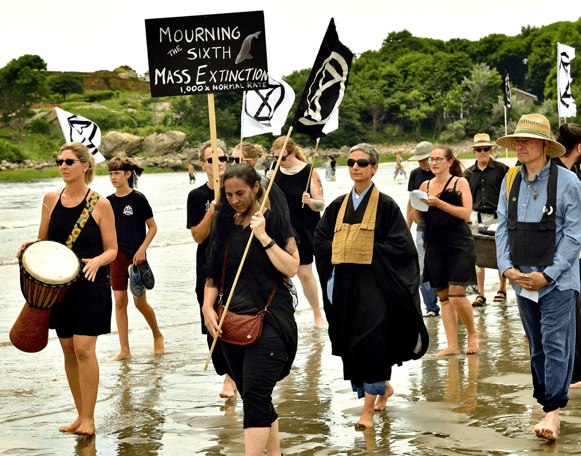 Zen Center North shore members and guiding teacher Joan Amaral participated in a Climate Funeral in August 2019
Since this was one of the themes of the 2019 Branching Streams Conference, inspired by Stephanie Kaza's presentation, I invited groups to share their ways of responding to the climate crisis and heard back from six groups. If you didn't respond, it's not too late to send your news for future newsletters.
Branching Streams Newsette for June 30, 2020
Contents:
• How to register for the first Branching Streams online course, Unpacking the Whiteness of Leadership
• An invitation to participate in online election retreats
• A description of Houston Zen Center's closing ceremony of their summer practice period
• A reminder about Jon Voss's Zoom clinic
Online Course: Unpacking the Whiteness of Leadership
Branching Streams is proposing a new online course: Unpacking the Whiteness of Leadership. For teachers, board members, and sangha members, the course will be led by Crystal Johnson (bio). We will need 30 or more participants to offer this course. Here is the course description:
This is a time in America when white people's awareness of the terrible impact of racial inequity has increased dramatically in the context of the pandemic and following the murders of George Floyd, Ahmaud Arbery and Breonna Taylor. As dharma practitioners and leaders, how can we use the energy of this time to confront and address the suffering of racial injustice and move toward greater inclusiveness and racial equity in our sanghas?
Branching Streams seeks to address this question through a new course, Unpacking the Whiteness of Leadership, designed for dharma practitioners and leaders who wish to promote, nurture and maintain a more diverse, equitable and inclusive community.
Tova Green's Letter to Branching Streams Teachers and Leaders about COVID-19
Branching Streams liaison Tova Green recently sent a letter to Branching Streams affiliate Sanghas regarding the ongoing global COVID-19/Coronavirus pandemic. The letter concerns best practices for Sanghas as they decide how to navigate the ongoing health crisis. You can read Tova's letter here.
Map of Affiliates
Click to bring up full-size map.