On the Road: Visiting and Sharing Mid-Stream
By Marcia Lieberman
My Visits to Rome and Belfast
By Tova Green
A Sense of Something Greater: Zen and the Search for Balance in Silicon Valley
Branching Streams Sangha Practice Visits to Green Gulch Farm
The Branching Streams Liaison has been working for some time with the Green Gulch Farm Guest Manager and GGF Director to create a Program that allows Branching Streams sanghas to visit Green Gulch for a period of intensive practice and study together as a sangha. We are ready now to in-augurate this new Program:
Branching Streams Sangha Practice Visits to Green Gulch Farm.
This new Program takes its inspiration from the successful Tassasjara "Private Study Week" Program that many Branching Streams sanghas have participated in.
The basic form of this new Program includes:
A multi-day (3-4-5 night) visit to Green Gulch as a Branching Streams sangha
Participating in the zendo schedule with resident practitioners
Participating in the morning work period, as organized by the Guest Program manager
Having the afternoon each day for sangha meeting and study, individual retreat time, hiking and exercise time, etc.
If this new Program is of interest to you and your sangha, please feel free to get in touch with the Branching Streams Liaison, or to contact the GGF Guest Manager at [email protected]
Jizo Ceremony Training
March 29-30, 2019
Green Gulch Farm Zen Center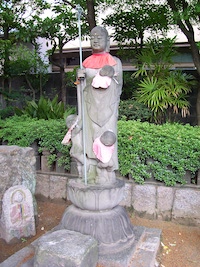 Next March, two Branching Streams Teachers, Hoka Chris Fortin of Dharma Heart Zen, and Dojin Sarah Emerson of Stone Creek Zen Center, along with Reverend Jennifer Block will be providing training in offering and officiating at a Jizo Ceremony. The traditional Jizo Ceremony is a Japanese Zen ritual for loved ones, particularly children, who have died. Since being offered in the U.S., this ceremony has been evolving, both for Zen practitioners and those in the community beyond, as a deep and meaningful container for those grieving both the loss of a child, and has also been adapted for those grieving losses of loved ones more generally.
This will be a two day training. The first 1 ½ days will look at the history of the Jizo ceremony, it's tradition, and how it is currently being practiced and offered in the U.S.. We learn about one version of the ceremony itself, and the ways it can be adapted to different circumstances, losses and environments. We will also look at fundamental aspects of accompanying grief and tools and skills for this work, which includes conscious engagement with the grief each of us carries and how we are holding it.
On the second day, in the afternoon, we will offer a Jizo Ceremony for the general public, which training participants are encouraged to attend as well. This will be an opportunity to participate in and witness the ceremony itself.
It is not necessary for participants to have personally experienced the loss of a child or loved one, but just that everyone have a willingness to enter the realm of grief and it's accompanying pain, and to learn about and honor this ceremony, its history and particular forms and contemporary manifestations.
This training is open to ordained priests, religions leaders, grief counselors and chaplains; and may also be attended by anyone else who feels a calling to participate in learning about this ceremony, with instructor permission.
For more information, or to register for the training, please go to:
http://sfzc.org/green-gulch/calendar/workshops-retreats/jizo-ceremony-training
With more questions, please contact Sarah at: [email protected]
Resource: When Blossoms Fall—A Zen Guide for Death and Dying
Several years ago, a number of people at SFZC worked on and created a booklet which, (from the Introductory Letter), "is designed to help us face our own death and the the death of loved ones with compassion and awareness." In the last year a 3rd edition and update has been made and a PDF Booklet is now available. Describing the booklet contents, (also from the Introductory Letter): "This booklet begins with the teachings of the Buddha and other readings which we offer as guidance. The section that follows, 'Buddhist Practices and Traditions Regarding Dying, Death and Mourning', provides a framework for understanding Buddhist values and approaches to the dying process. And the 'Vital Information' worksheets will help you gather necessary information in one place."
Map of Affiliates
Click to bring up full-size map.


Social Action: SFZC practitioners host Vigil at Richmond CA ICE Detention Center
Practitioners from Green Gulch Farm, some as well from SFZC City Center and other sanghas, participated on July 7th in the monthly vigil held at the West County ICE Detention Center in Richmond CA. The vigil is organized by the Interfaith Movement for Human Integrity, and Green Gulch Farm Zen Center was invited to host this month's event. A statement from the SFZC Central Abbess, Eijun Linda Ruth Cutts was given at the vigil and translated into Spanish, sharing with those who gathered to sit, bear witness, and participate in a religious service, the teachings that support the vigil.
An excerpt from Linda's statement:
We have come here today to participate with you in this vigil out of compassion. With a beginner's mind we join with countless others to be counted–to speak out for those whose voices are silenced
Our practice and vow flows from the teaching of the truth of our interconnected lives and our love for the earth and all beings. This truth of connection expresses itself in compassion—the wish and prayer that all beings will be free from suffering and the vow to live to benefit all beings. The capacity for Infinite Compassion—in each one of us—is said to have 1,000 hands and eyes—and takes immeasurable forms—ready to respond to the cries of the world—This is the fierce, unstoppable power of compassion. What is needed today.
Rakusu Kits Available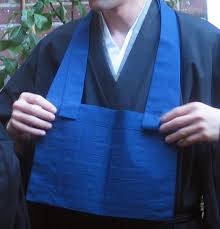 Kyosho Valorie Beer, head of Harmonious Spirit Affiliate sangha, is offering to provide rakusu kits. They contain all pieces necessary to make a rakusu and envelope. Valorie can be reached at [email protected].org. Kits are available in blue, black, brown and green.  Black and brown kits also include okesa envelope fabric. Kits do not include thread.
Branching Streams Gathering/Conference — Dates and Venue Confirmed: SAVE THE DATES!
The Fall 2019 Branching Streams Gathering/Conference will be:
Dates: September 16-19, 2019 (arriving Monday and departing Thursday)
Hosted by: Milwaukee Zen Center
Venue: Siena Retreat Center in Racine WI
From the Branching Streams Liaison:
After our last Branching Streams meeting, hosted by Ancient Dragon Zen Gate, Les Kaye and Kannon Do leaders generously offered to host the next meeting. As we worked on this possibility, it became clear that the costs involved were prohibitive — Kannon Do is located in the Silicon Valley area of California, and costs for nearby retreat venues reflect that reality. At that point, Reirin Gumbel and members of Milwaukee Zen Center stepped forward, volunteering to take on hosting for the next meeting. I was able to visit with Reirin and MZC members in early April to further discuss this possibility. MZC itself does not have the facilities to host the meeting in its own space. However we found an excellent nearby venue, the Siena Retreat Center, in Racine, WI, run by Dominican sisters. (The Siena Center is named after Saint Catherine of Siena, a 14th century Dominican "of great religious and spiritual influence".) Working with the Retreat Center's availability, we've scheduled our meeting to begin on a Monday afternoon, and end Thursday mid-day. There will also be an opportunity to visit Milwaukee Zen Center and take a "Tour of Milwaukee", led by MZC members, at the conclusion of our meeting.