Farm and Garden Apprenticeships
at Green Gulch
Seeking prospective Zen students & farmer-gardeners!
Green Gulch Farm welcomes applications to the 6-month Farm & Garden Apprenticeship Program for 2017. Read detailed information about the program here. A prerequisite for the apprenticeship is a 2-week guest student stay, which needs to be scheduled in advance. Our ideal candidates are energetic people equally interested in cultivating Zen practice, living in an intimate residential sangha setting, and working to steward this beautiful watershed while learning to produce organic fruit, flowers, herbs and vegetables for a variety of outlets. For any questions, including guest student stays, please contact contact Emila Heller.
New Editor, New Ideas
by Steve Weintraub and Jean Leathers
With any website, myriad beings connect behind the scenes to keep content current and to foster a lively online neighborhood. Branching Streams has been cared for by many unseen hands, fingertips touching keyboards and tablets, content emerging and falling away—a digital manifestation of interconnectedness and impermanence.
Our search for a new website content editor has been successful. Jean Leathers, a member of SFZC for more than a decade, currently residing in Cleveland, Ohio, has agreed to serve in this role. As she takes the helm, we thought it would be nice to take a moment to recognize and thank a few folks who've been attending to our community's online presence. (continue reading)
Reflections on a Branching Streams Fellowship
Through the Branching Streams Fellowship Program, Hakusho Johan Ostlund was invited to spend six months with Taigen Dan Leighton and the Ancient Dragon Zen Gate Sangha (ADZG) in Chicago. Hakusho, Taigen, and Ino Laurel Ross share their appreciation and experiences. (continue reading)
Profile: Twining Vines Sangha, New York, NY
Twining Vines Sangha celebrates 10-year anniversary in 2016
Twining Vines Sangha (TVS) is a non-residential practice community located in the northern suburbs of New York City. Our home zendo is in Purchase, NY, where we have Tuesday evening zazen, a short talk, and discussion; and a regular Saturday morning program including zazen, service, and work practice. We also sit Thursday evenings in Old Greenwich, CT in a Congregational Church that has welcomed us since early 2006, and where we offer beginning instruction.
TVS has been celebrating its 10th anniversary throughout 2016. Founded in early 2006 by Jane Genshin Shuman and Patty Chikai Pecoraro, it started with a sitting group in one room on the lower level of Patty and Jane's home. As we grew, pieces of furniture and exercise equipment disappeared one by one until the whole ground floor was dedicated to space for TVS.  (continue reading)
On the Road: Visiting and Sharing Mid-Stream
Marcia Lieberman describes her time at three sangha Centers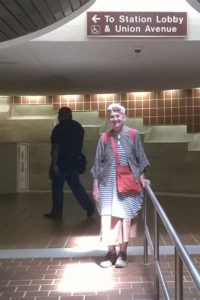 This past summer I was fortunate to visit 3 sanghas and share my knowledge and experience of temple arts. The initial proposal sent out to Branching Streams Affiliates described my intention: to reside in a Branching Streams community to share my knowledge and devotion to the forms and rituals embedded in Soto Zen practice. It was a wonderful time, and I found each Center to be warm and welcoming. The abiding teachers at each Center opened doors and helped in so many ways. (continue reading)
Map of Affiliates
Click to bring up full-size map.

Of Interest
Click link to jump to story
Reminiscences of Suzuki Rosho (audio)
Reminiscences about Suzuki Roshi
At one of the evening sessions at the May 2015 Branching Streams meeting, some of us who had begun practicing when Suzuki Roshi was alive reminisced about our practice with him.  It was recorded and you can download the audio here.
Practicing Zen in Debt-ridden Athens
by Bernd Bender
(This article first appeared in Buddhismus Aktuell.)
A German meditation teacher and four Greek students reflect on practicing in a city ravaged by the European debt crisis.
For the last three years I have been flying to Athens every three months to practice Zen with a group of people there.
From my very first visit, I've been struck by the city's extreme contrasts. I enjoy going to the heart of the city, where I sit on the steps of an old Byzantine church that seems lost among the modern concrete buildings. My gaze wanders to the ruins of the Acropolis that still stand imposingly. To me, the architecture expresses the permanence of things. Yet one day the ancient Greeks experienced their own crisis, a veritable catastrophe: the end of their civilization. Everything flows, everything is in flux. (continue reading)
Valley Streams Zen Sangha Moves To New Home
After seven years of collaborating with two area sanghas, Valley Streams moves into the Sacramento Dharma Center.

The Grand Opening of the Sacramento Dharma Center on January 29, 2017, marks a new era for Buddhist practitioners in the Sacramento area.
Our Branching Streams affiliate, Valley Streams Zen Sangha, spent the last seven years collaborating with two area sanghas—the Sacramento Buddhist Meditation Group and Sacramento Insight Meditation—to coalesce fundraising toward a shared, long-term home. For many years, each sangha had been renting from churches, synagogues, yoga studios, and other Buddhist temples to hold weekly meetings and retreats. (continue reading)