[vc_row css=".vc_custom_1450814748990{margin-top: 24px !important;}"][vc_column width="2/3″ css=".vc_custom_1439944599510{border-right-width: 1px !important;padding-right: 18px !important;border-color: #d6d6d6 !important;border-style: solid !important;}"][vc_column_text css=".vc_custom_1455572188626{margin-top: 24px !important;}"]
Affiliate Sangha Membership
Membership in the Branching Streams Network of Affiliate Sanghas is open to Zen Sanghas practicing in the lineage of Shunryu Suzuki Roshi who wish to be affiliated with San Francisco Zen Center. Please note that membership in Branching Streams is for Sanghas, not for individuals. Also, leaders of Branching Streams sanghas are either Dharma Transmitted or Lay Entrusted teachers in Suzuki Roshi's lineage, or have an active, ongoing, and long-term relationship with a Transmitted or Entrusted teacher.
In addition to the intangible benefits of belonging to the Branching Streams network, affiliation provides numerous specific benefits including:
Greater access to Suzuki Roshi lineage teachers who have received dharma transmission or lay entrustment

Access to other Suzuki Roshi lineage teachers through the SFZC Fellowship program and other programs

Access to Okesa and Rakusu sewing teachers and sewing help

Greater access to San Francisco Zen Center and other affiliates through the Affiliate Sanghas Liaison

Inclusion in and participation in the Branching Streams Website, (including communicating with other Affiliates, sharing resources and discussing issues of mutual concern)

Inclusion in and participation in the Branching Streams National Conference Gatherings held every two years

Practice-related and temple items at reduced cost through SFZC Bookstore

Endorsement by SFZC as an Affiliate Sangha, and being listed as such on the SFZC website.  Use of the Branching Streams seal.

Counsel, consultation and help from SFZC on a wide array of issues, such as: how to set up a Board of Directors, how to write up Bylaws, fundraising, program development, institutional management, the process of finding and establishing a Teacher at a center.
Sanghas are asked to maintain a regular zen practice schedule.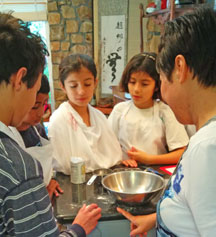 A yearly suggested contribution amount is requested, based on the size of the Affiliate Sangha: for Sanghas of 25 or fewer active members, $100; for Sanghas of 25 or greater active members, $250.  These funds help support Branching Streams programs and activities.  Please contact us if you feel your sangha is not able to afford one of the contribution amounts listed above.
In addition to this yearly suggested contribution, Sanghas are asked to abide by an agreed upon precept-based set of ethical policies, including procedures for conflict resolution (which may be SFZC's "Ethical Principles and Procedures for Grievance and Reconciliation" document.). For full details, please see the Criteria and Benefits of Affiliation document.
[/vc_column_text][/vc_column][vc_column width="1/3″][vc_column_text]
One Time Membership Contribution for 2020
Please choose the appropriate contribution level based on the number of your sangha's active members.[/vc_column_text][vc_tta_accordion color="blue" active_section="3″ collapsible_all="true"][vc_tta_section title="$100 – 25 or Fewer Active Members" tab_id="1491853286878-0b6f406b-8d07″][vc_column_text][/vc_column_text][/vc_tta_section][vc_tta_section title="$250 – 26 or More Active Members" tab_id="1491853286878-a248b4c0-0368″][vc_column_text][/vc_column_text][/vc_tta_section][/vc_tta_accordion][/vc_column][/vc_row]