On the Road: Visiting and Sharing Mid-Stream
by Marcia Lieberman
.
At Empty Hand Zen Center, the visit included restoring their garden, how to create home altars, and the Japanese tradition of the 72 seasons.
The emphasis was on garden and nature and the sangha worked together on the garden restoration.
      
A joint workday with Twining Vines Sangha culminated in a small service to rededicate the garden. Also included during the visit was how Zen and the arts relate to each other. Members were encouraged to make a saijiki—a chronicle to increase one's awareness of sentient beings, weather and nature. Each day an entry was made that included 3 observations: personal experience, natural phenomenon, and seasonal categories.
The home altar workshop allowed each member to fabricate a tabletop altar at Zen Center that remained in place throughout the week.
At this lively Center, I included the devotional practice of oryoki, sutra copying, way of tea, and chidening (caring for the altar). The general theme was form and ritual in everyday practice. With sangha member Laura Ashe, a weekend retreat was offered on Tea and Zen Ritual. A highlight of the weekend was constructing a zendo at the beach and facing the sea to sit zazen!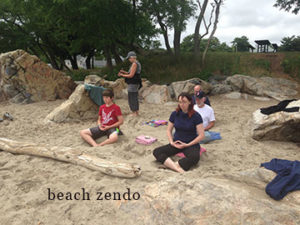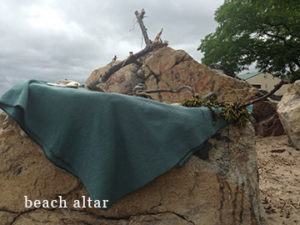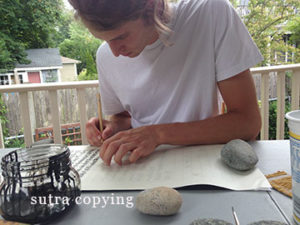 In addition to events, twice each day I held a "task and talk" table in the kitchen for drop-in discussion of form and an opportunity to practice some of the forms—sewing, calligraphy, altar arrangements. The last event there was sutra copying in the garden by candlelight.
Here, the request was to photograph senior sangha members and create a new space design for the entryway. In an effort to gather more information about their membership, I included interview questions with each photo session. One question was, "What phrase or reaching expression has encouraged you?" The answers were so beautifully made and the sincerity was inspiring. Because of the timing of my visit, I was able to photograph Greg Snyder in his brand new brown okesa.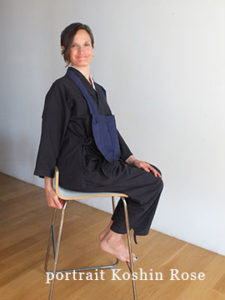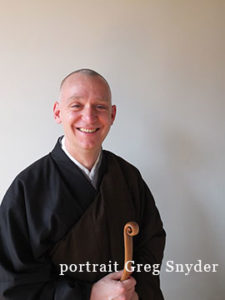 I have a keen interest to visit and learn more about the non-residential practice Centers.
In conversations prior to my arrival, each Center made requests and a program was developed to meet the needs they expressed. I hope to continue this annual rhythm of three months "on the road" with my practice. None of this could have happened without the support and encouragement of the Centers I visited, and the guidance and direction of Steve Weintraub.              –Marcia
If you would like to know more about this program, or are interested in Marcia visiting, please contact her. Marcia is the beekeeper at San Francisco Zen Center.